Strömsholmen
60 machines, Qlik-View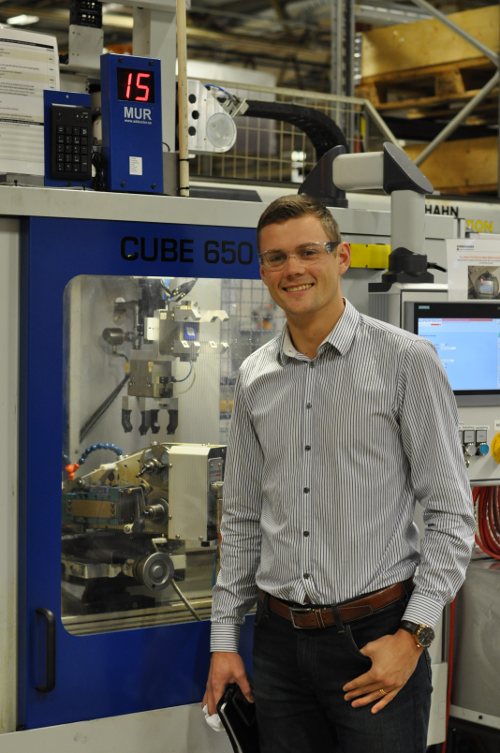 Christoffer at one of all the 60 machines that are measured with the MUR system.
About Strömsholmen:
The company is located in Tranås and has about 350 employees. They develop and manufacture gas springs for automotive and industrial applications under the brand name Kaller. The company is owned by the listed United States-based Barnes Group.
At Strömsholmen in Tranås, the machines go for high pressure when we visit the company for a chat with Christoffer Bohman, Group Manager for Production Preparation.
You have been running the MUR system for about ten years, how has it worked for you?
- We have had the system for ten years, but it has not been used to its full potential until the last four years. It was then that we got up that we could use MUR significantly more than we did. We are working hard so the machine operators will receive continuous feedback on the error codes entered into the system. It's important that everyone feels involved and that they do not feel that they collect a lot of data just disappearing in a "black hole". We measure about 60 machines today and it has helped us a lot.
How is the collected data communicated with the production staff?
- A screen in our production room gives us a visual view of the operation and there we hold a meeting every day with our production managers. Already there we see how the business work, in a quickly and easily way. Then we work a lot with response time versus redundancy time on all support organizations we have, such as the maintenance organization. We are working hard to get down the stopping times.
How have you set up the stop codes?
- An early decision was to have only five-six error codes for the operators, but for example, the maintenance department has additional codes so that we can break it down within their organization. We think it's important that operators do not get complicated with too many error codes to keep track of.
Do you have any figures on how much you could increase production with the help of the MUR system?
- We have increased OEE by about 10% recently, as we can measure accessibility losses in minutes. In terms of accessibility, we have increased by about 10% in recent years because we know what is happening and that we can follow up on it. As you become aware of what is happening in production, it also becomes another type of discussion, now we know exactly where the problems lie and can put the right action right away. In the past, it was more of "speculation" when talking about stops and errors.
You also measure a manual production line, can you tell me a bit about it?
- It is a pilot area for mounting a particular product, where the entire line is measured with a pushbutton where those who work there press a button when the moments are performed. This way we can measure how the production line works and how long the moments take.
Logistics Manager Petter Strömvall-Bjelm explains how he built a module in Qlik-view to link the data from the MUR system with data from the business system:
- During a summer when everyone was on vacation, I sat down and built a module. We can say that we have "built on" a floor on the MUR system. In Qlik-View, we can now see all machines and departments by day, week or month, and we have also converted the stop to money. We immediately get a real value of what each machine costs in a stop-up per day, week or month, along with data on how each order has passed.
---
See what MUR can do for you