If you want to make temporary measurements, such as a bottleneck, or get to know the MUR-System before making a purchase, rent the MUR-Bag.
Starter Pack
Sometimes it can be difficult to get staff together to start a project.
Therefore, we offer a complete start-up package that gets the MUR-System in operation at your company without anyone having to "own" the project, to begin with. The MUR-System is self-propelled for a start-up period, but after that the MUR-System is a tool that you must use.
We offer:
Helps your IT install the MUR System
Supporters are electricians in the installation towards the machine
Make all settings so you have a fully installed MUR-System
Make MUR-Info screen adapted to your production and what you want to show
Ger is a course in the MUR System
Now you're up and running with all measurements and all stops are automatically recorded
After this you have full support from us.
Contact us for more information
We are happy to help you on site
We offer feasibility studies with installation proposals, commissioning of the MUR program, commissioning of MUR-Box on a machine and a course in operation.
With the MUR Bag you can see if the MUR System suits you
No investments or fixed costs.
Everyone at the company can take part in the MUR system
at home.
Take part in all MUR Programs.
Now you can make a safe decision that the MUR system is right for you.
Contact us if you want to rent the MUR Bag or buy a MUR system.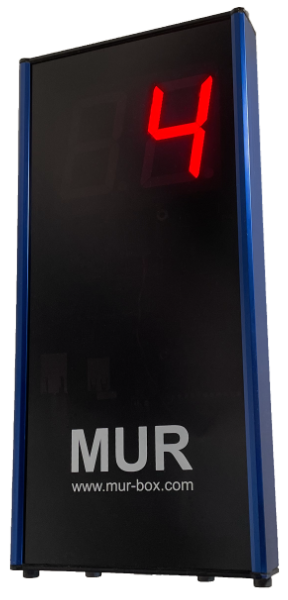 The MUR box connects directly to your LAN.