MiTek
6 machines, meeting at the MUR-Info screen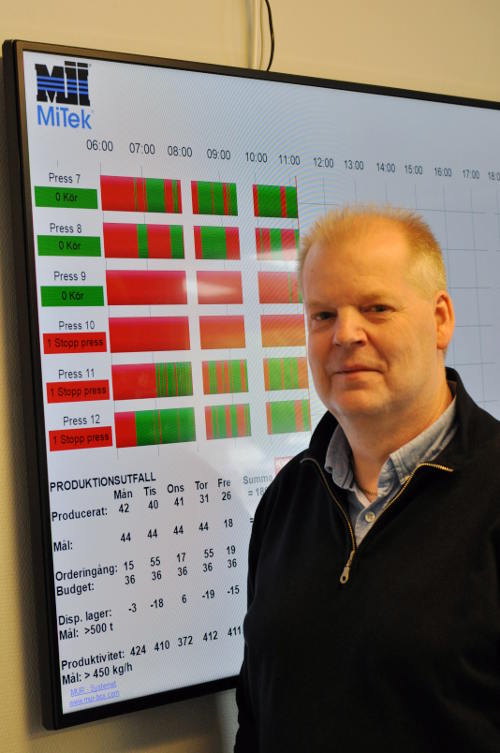 Production Manager Peter Cullberg at the screen, that shows the real-time production:
– An easy and visual way to get good discussions about production," says Peter.
About MiTek:
MiTek Industries AB in Tranås is part of a US-based group based in St. Louis. MiTek manufactures nail plates and building fittings for the Nordic markets. The company was founded in 1974 and currently has 25 employees in the Tranås factory.
Production Manager Peter Cullberg explains the business and how they use the MUR system:
For how long time have you used the MUR system?
– We installed it in March 2017 so it's quite new to us, we still have some development to do regarding stop codes. We have also received some new machines that we have not yet linked. Before MUR, we had no measurement system at all. So far, we've only measured "drive or not run" so operators do not give any stop codes yet, but this first step has given us a lot to, even though the stop codes are not used.
You have a screen in the lunchroom where the production is displayed?
– Every morning we have a meeting at the screen with all the employees, where we review the different stops and what they depend on and it leads to very good discussions on how we can improve. It is a matter of being a little "careful" when introducing a machine-measurement system, that everyone really understands that it's for a smoother operation and that there is no system for monitoring staff. Once that mindset is in place, there are only benefits of measurement. A tool simply.
How many machines do you measure?
– Now we measure six machines.
How does the MUR system feel spontaneously?
– A good tool for the improvement work, clearly. Easy to get started with. We get a whole new overview, discussion and awareness about our production.
---
See what MUR can do for you